Learn to make beautiful, sturdy, professional wire wrapped jewelry!
I show you how, step-by-step, in the Wire Wrapping for Beginners eCourse!
Learn all the components and techniques you need to make earrings, bracelet, charm bracelets, necklaces and rings!
Plus be inspired to express your own creativity, going beyond just following step-by-step tutorials, but infusing your own style into the jewelry pieces you create.
In this eCourse you'll learn:
- How to make your own headpins (including: simple headpins, eye pins, paddle headpins, open spiral headpins, closed spiral headpins and knotted headpins.)

- How to make your own clasps (including: hook clasp, S clasp and toggle clasp.)

- Other jewelry components:
Bead dangle
Wire wrapped bead link
Wire wrapping side drilled beads
Spiral charm
Knotted link
Wire wrapped bead ring
Earring wire
Jump rings (how to make them and how to properly open and close them)
Chain (I teach you how to make a figure eight chain! So satisfying!)
After you know how to make all of those components (the "ingredients"), I give you the recipes to put together beautiful wire wrapped jewelry.
Here's a simple example of what I mean by "recipes:"
Simple Dangle Earrings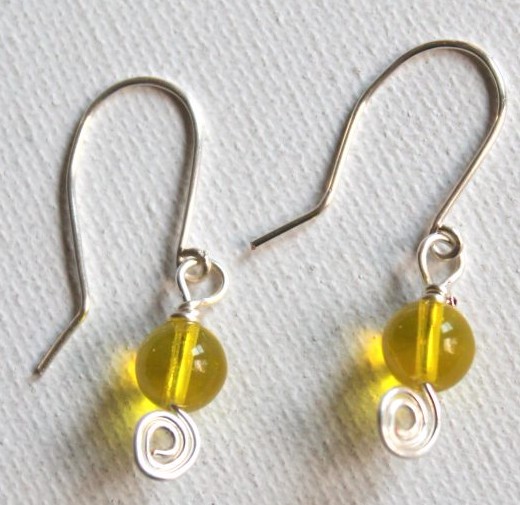 Recipe for Simple Dangle Earrings: Headpin + Bead Dangle + Earring Wire
For the earrings in the photo, I used Open Spiral Headpins.
Beads: 8mm Czech glass beads.
Customize these earrings:
Change the headpin to any headpin you like.
Use any beads you like.
Use any metal for the wire you like.
Alternatively you could purchase headpins and earring wires.
* Within the eCourse you get full tutorials for all the components, which includes a video, PDF eBook with step-by-step photo instructions.*
Here's what a student had to say about my teaching style:

Explains things that anyone can understand.
"The best thing about the eCourse was getting to watch Kim do things that I was then able to do. She always explains things that anyone can understand. Just love her style of teaching and knowledge that she shares. I looked forward every single day to see what she was going to do."
Jewelry Projects Include:
- 10 Earring Projects! Plus endless options for customizing the earring projects I share!
- 8 Bracelet Projects! And again, endless ideas for customizing the bracelet projects.
- A section dedicated to charm bracelets with 6 projects and, of course, endless ideas for making charm bracelets your own!

- 7 Necklace Projects with lots of customization ideas!

- 5 Wire Wrapped Ring Projects based on my Wire Wrapped Bead Ring. Once you can make this ring, you'll be whipping out tons of wire wrapped rings.

Be Inspired!
Throughout Wire Wrapping for Beginners I encourage you to change out components and give you ideas for customizing the jewelry projects to express your own creativity and personal style.
You'll get solid skills lessons and learn step-by-step how to make all the components you need to make your own wire wrapped jewelry.
But you'll be inspired to make your own design decisions throughout the eCourse as well!
I show you how to make your own findings (chain, jump rings, clasps, earring wires), but I also share how to swap out purchased pre-made findings to save time.

I'm told all the time that I make complex things seem simple. I have a knack for breaking down projects into steps that make sense.
If you haven't made jewelry before, you will learn from Wire Wrapping for Beginners eCourse. I guarantee it. If you get stuck or confused, simply email me and I'll help you in whatever way you need to be successful.
If you've been wanting to learn how to make wire wrapped jewelry and are overwhelmed by all the different tutorials you've seen around and don't know where to start, start here.
You'll get all the skills, confidence and inspiration that you need to make your own wire wrapped jewelry!
What you get:
For all the components (bead dangle, wire wrapped bead link, all the findings, etc.) you get step-by-step, clear instructions via video and written and photo instructions in a PDF eBook.
For all the jewelry projects, you get the "recipe" using the components you learned (that contain the videos, photo instructions and PDFs), ideas to customize, exactly how I made the project plus how to change out to save time with pre-made findings.
My learning guarantee. (You'll learn what I say you'll learn. If not, let me know and I'll explain it until you understand it.)
Confidence, creative expression, inspiration
Lots of beautiful wire wrapped jewelry that you made yourself!
Plus you can sell the jewelry you make from this eCourse!